Blessed are the merciful, for they will be shown mercy." Matthew 5:7 (NIV)
Do you ever feel like the injustice, intimidation and violence in our world will never stop? Jesus' world was not that much different from ours. The Roman Empire was not merciful either.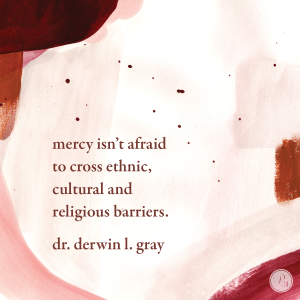 Even the Jewish leaders had serious issues with mercy too. So the common people were caught between the merciless, oppressive Roman Empire and the merciless, compromised religious establishment.
So mercy Himself came to show us a better way to be human. Jesus knew we could never give mercy until we experienced divine mercy. If you do not possess it, you cannot give it away. Jesus, the One who is the endless fountain of mercy, was sent to earth so humanity could come and drink the life-giving waters of His mercy.
As He extended mercy, Jesus also taught us how to be merciful. In Matthew 5:7, He said "Blessed are the merciful, for they will be shown mercy."
According to Jesus, merciful people love their neighbors. But this isn't a sentimental love; this is a kind of mercy that looks like the cross of Jesus.
Jesus told a story about an unlikely neighbor who displayed mercy to an unlikely recipient. We know it now as the Parable of the Good Samaritan. Jesus pointed out that as a man lay on the side of the road, clinging to life, a Jewish priest and a Levite came down from Jerusalem, saw him, and didn't offer to help.
Read more: http://info.proverbs31.org/what-is-loving-my-neighbor-supposed-to-look-like-dr-derwin-l-gray
Filed under: Discipleship | Tagged: love, one another |